English
In English, we will be writing persuasive letters. To begin with, we will be writing a letter to persuade other children to join our school. We wll then move on to writing a letter to persuade people to stop using single-use plastic. Finally, we will writing a letter to a supermarket of our choice to persuade them to stop selling plastic bags.
Reading
You can access many of the schemes of books we have in school and read them online for free on the website https://www.oxfordowl.co.uk/. On the homepage, click My Class Login and use these log in details:
Username: wayear2
Password: password2
Once on the website, choose My Bookshelf and then you can choose books from different age ranges, series and themes.
We love 'Reading for Pleasure'. Here are a few recommended books for you to read while you are in Year 5: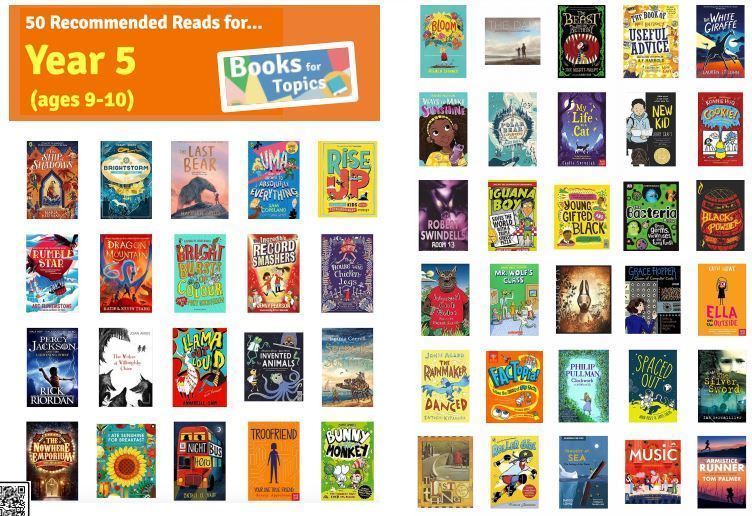 Maths
In maths, we will be identifying tenths and hundreths as part of a whole. We will read, writing, order and compare numbers up to 3 decimal places. We will use our knowledge of decimal place value to solve a range of problems. We will then move on to learning about money. We will compare amounts of money and add commonly used prices. We will calculate the change due when paying with whole pounds or notes. We will also focus on interpreting negative numbers in context, counting forwards and backwards with positive and negative whole numbers, including through zero.
Maths practice
Here are some maths games that you can enjoy at home. You have been already been sent your log in details for these websites, however if you cannot find those details, email Mrs Tapp or Mrs Davies:
https://ttrockstars.com/ - To practice your times tables like a rockstar!
https://www.mymaths.co.uk - Practice your skills and play games based on what we are learning about in class.
https://www.topmarks.co.uk/maths-games/hit-the-button How quick can you answer the questions?
Science
Our science topic this half term will be 'Earth and Space'. We will look at our solar system and describe the movement of the Earth and the moon. We will explain day and night and the apparent movement of the sun across the sky. On Thursday 13th October we will be visiting Jodrell Bank to enhance our learning further.
Extra science activities
For some extra science activities, please check out this website: https://www.tigtagworld.com/hi/HLU8L1G6EIYB?next=/
Geography
In Geography we will be answering the enquiry question - What makes a country appealing to live in? We will be carrying out a comparison between the United Kingdom and Brazil, bridging back to our learning about Brazil from Year 2.
Design and Technology
We will be designing, making and evaluating our very own marble runs.
Music
In music, we will begin with wind instrument tuition with peripatetic instructors. This will take place every Wednesday afternoon.
French
In French we will be answering the question - Which school subjects do I like or dislike? We will learn how to talk about our school subjects in French and share this with our friends.
Computing:
By the end of this half term, we will be able to answer the enquiry question 'How do I program an interactive game?' We will be learning to create a computer game using Scratch.
P.E.
Outdoor PE will be every Monday and indoor PE will be every Thursday. Please come to school wearing your PE kit on those days. Please remember to tie long hair back!
From Monday 12th September until Monday 5th December Year 5 will be going swimming on Monday afternoons. Please remember to bring your swimming kits. We ask that children come to school in their school uniform instead of their PE clothes on those dates. Thank you.
Look at the Year 5 curriculum map below to see what we will be learning about in our other lessons this half term:
Homework
We will send homework home on a Friday. The children will have a new spelling list and a maths book each week. They will also have a grammar and comprehension homework on alternate weeks. Please ensure their completed homework is returned for marking by the following Friday.
Our weekly spelling test will be on a Friday.