Miss Brown's and Miss Maxwell's Class page!
Welcome to Year 2
A class of inspirational Year 2 children who work well as a team!
A note from the Year 2 team to our wonderful children:
We can't believe this is the last week of you being in Year 2! We are going to miss you so much next year but you are all ready for the juniors and we cannot wait to see you shine and sparkle in your new classes. We hope you have a lovely summer holiday and can't wait to see your smiling faces in September.
An update from the Year 2 team to our wonderful parents:
We would like to thank you all from the bottom of our heart for all the support you have given us as teachers and your children throughout these unprecedented times. We have loved receiving emails and videos from you keeping us updated on the progress the children have been making. We can not imagine how tricky this has been for you all. You have all made wonderful teachers! We are now coming to the end of the school year. It has been a joy to teach your children and don't worry we will be keeping a close eye on them next year!! Please do not hesitate to contact us if you feel there is a problem or an issue.
From Monday 20th July, it will have be our last 3 days with the children. During this time we normally complete lots of sport and art work. Although we will be putting things on the website for the last 2 days please don't feel under any pressure to complete the activities. We won't be putting any work up during the summer holidays as we are both going away on holiday. We hope you have a lovely summer and will see you in September.
English
Reading
Many of our children love books and thoroughly enjoy Reading For Pleasure. Let them enjoy reading books, curled up with a hot chocolate and their favourite teddy.
Take a look at the link below where there are 14 different reading challenges that you can try:
You can also access many of the schemes of books we have in school and read them online for free on the website https://www.oxfordowl.co.uk/. On the homepage, click My Class Login and use these log in details:
Username: wayear2
Password: password2
Once on the website, choose My Bookshelf and then you can choose books from different age ranges, series and themes.
***Summer Reading Challenge***
Beginning on 5th June, you can join the Cheshire East Summer Reading Challenge and this year's theme is the 'Silly Squad!'Many celebrities have supported this year's digital challenge, including Jacqueline Wilson, Paul O'Grady, Cressida Cowell, Sam and Mark and Hacker T Dog! Find out more about the challenge: https://summerreadingchallenge.org.uk/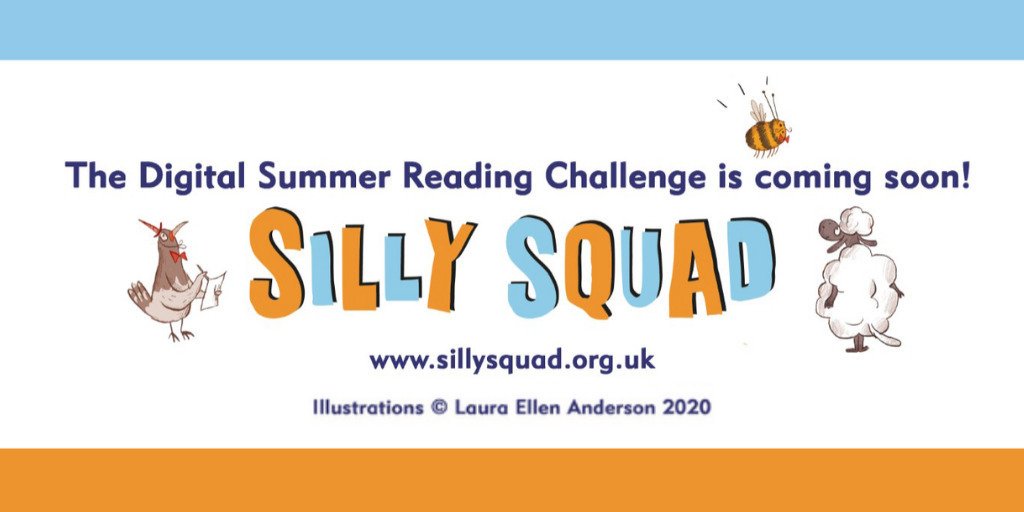 Spelling
Please continue working on the Year 2 common exception words so that they can practise spelling. You could hide them around the house, they could maybe write letters to their friends (or us!) or write a story. Year 2 Common Exception Word Booklet
We often use Spelling Play to teach the children the spelling rules in Year 2 https://www.spellingplay.co.uk/y2_member/planning_year2_spelling.html This half term, we would be revising the area Vowel Suffixes 1, but you can do whatever you feel like doing!
Writing
Week beginning: 20/7/2020

We can't believe that these are the last few days that you are going to be in Year 2! The next couple of days of activities are all about remembering what you enjoyed doing while you were in school with us in Year 2 and also helping your new teachers in Year 3 get to know you better!
Monday - Memories of Year 2 - We would love to see your memories from Year 2. Don't forget to email us!
Tuesday - Getting to know you - Your Year 3 teachers would love to get to know you more.
Here are their emails so that you can say hi and help them learn more about you!
Mr D'Souza - cd'souza@thewilmslowacademy.co.uk
Mrs Gittins - lgittins@thewilmslowacademy.co.uk
Mrs Kralj - skralj@thewilmslowacademy.co.uk
Maths
We have now finished all the units of learning for maths in Year 2. We always spend a few weeks after Easter with the children going over work to get them ready for the SATs which we have not had to do. So we are going to spend the next 5 weeks recapping work which the children have already been taught. Please don't worry if you have forgotten anything!!
WB 20th July
Please complete as much or as little of this work as you want.
Multiplication-and-Division-Consolidation-Pack.
Multiplication-and-Division 2 consolidation
Measurement-Money-Consolidation
Addition-and-Subtraction-Consolidation-Pack
Each week we are adding more work onto my maths. You have your log in and passwords and can complete the work online. - https://www.mymaths.co.uk/
Don't forget to keep practising your times tables. You can play bingo with your family or below are some links for you to try on the computer.
https://coolsciencelab.com/math_magician.html - can you answer 20 questions in a minute. If you do you will get a certificate!
https://www.topmarks.co.uk/maths-games/hit-the-button how quick can you answer the questions!
Science
For some extra science work please check out this website: Tigtag Junior (ages 4 to 7) https://www.tigtagworld.com/hi/HLU8L1G6EIYB?next=/
There are videos and activities for children to complete. It doesn't matter which area of learning children choose. Just whatever interests them!
PE
Joe Wicks has videos called 'PE with Joe' https://www.youtube.com/user/thebodycoach1 This is a great way to keep the children fit and healthy!
Oti Mabuse from Strictly Come Dancing has been uploading Dance classes for kids, using songs from popular films such as Trolls, The Greatest Showman and Shrek! https://www.youtube.com/channel/UC58aowNEXHHnflR_5YTtP4g
Cosmic Yoga is brilliant for mindfulness and relaxation. https://www.youtube.com/user/CosmicKidsYoga
Here is a link to some PE activities you can do at home: Home PE Activities
Online Safety:
Here is a link to complete short 15 minute activities about how to keep yourself safe online: https://www.thinkuknow.co.uk/parents/Support-tools/home-activity-worksheets/5-7s/?utm_source=Thinkuknow&utm_campaign=176d7bc4c3-TUK_ONLINE_SAFETY_AT_HOME_30_06_20&utm_medium=email&utm_term=0_0b54505554-176d7bc4c3-64762961
If you have a problem no matter how big or small please contact us and we will always be willing to help.